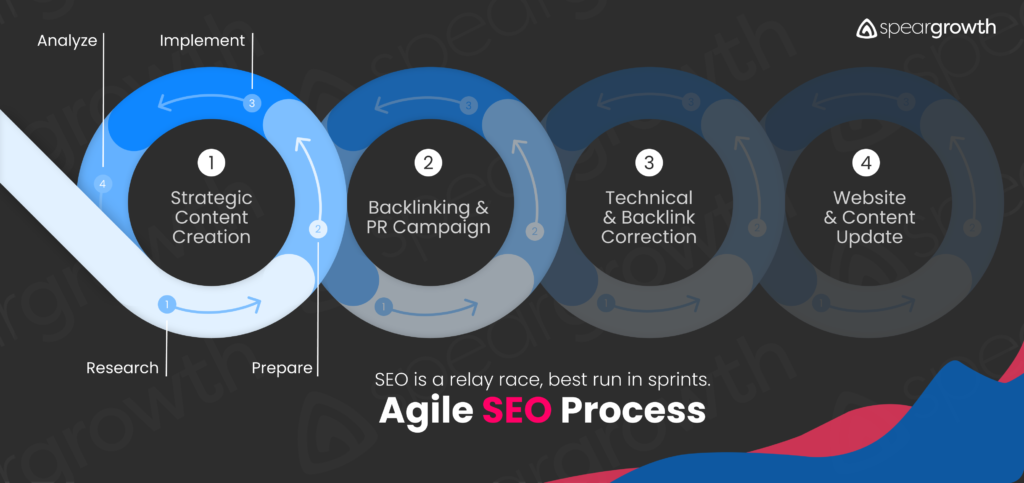 Historically, marketers have taught marketers, and that's how it should be. People who figure it out earlier teach people who want to do it next.
Or, it could be a company that built a tool, which enables marketers to implement a new marketing channel. Thus, the company teaches marketers how to use the tool, and in turn, the marketing channel.
And this works really well.
But… something weird happens when it comes to SEO.
All the current "ways" to look at SEO are either for agencies to implement SEO or for newbies to learn it. There was nothing for business teams to implement SEO for themselves.
Until now.
Why SEO should be in-house
There are loads of SEO agencies. Should SEO even be in-house?
Consider this:
Your website, PR, and content represent your brand and should be owned by your internal team. They're also the main pillars on which SEO stands.
Moreover, Content and Tech teams implement most of the SEO activities anyway and you already have these teams in your company. So, it makes sense for your internal teams to own SEO, right?
But then again, SEO is the vastest marketing channel there is. It also is easily the most misunderstood and probably one of the hardest to hire for.
Let's look at some reasons why B2B companies should stick with their in-house teams for SEO:
Nobody knows your business better than your internal team members. They have deep knowledge about your offerings, clients, competitors, positioning, market—you name it.
Leaving the implementation to your teams has a long-term upside. This includes technical SEO, as well as creating and updating content. They can provide much more value.
The market research your internal teams conducted for your products and services can fuel the way you communicate with your target audience. Use the insights for writing your blogs and website copies.
They're more consistent as each team works towards the same goal: the growth of the company. Thus, they focus on quality over quantity.
You can rapidly test new concepts, see how it's working with your audience, and get quicker feedback on it from your internal team members.
So, let SEO be an inside job.
When your content, marketing, and website team collaborate to work on SEO, you'd be able to see consistent results and more SQLs, all while growing your revenue exponentially.
The SEO problem: what most companies face today
While building the SEO team at a Unicorn startup, I realized something…
We were doing SEO in an extremely different way.
This is how people usually divide SEO:
On-page.
Off-page.
Technical.
Others (Internations, Local, Voice, etc.)
If you look at the last 2, you'd realize that these were created because on-page and off-page could not cover the depth of SEO.
Moreover, when you look at implementing it, you'd find that there are clear overlaps.
So, perhaps these make it easy to sell SEO to companies or even teach SEO to students.
But definitely not for making companies align SEO initiatives with their overall marketing goals.
That's why we came up with our own way which we've tested with countless B2B companies.
It's called Agile SEO.
Challenges faced by internal teams today
Before I dive deeper into what Agile SEO is and how it works, let's discuss how the lack of Agile SEO adoption is causing a lot of problems in in-house teams currently.
1. Team alignment
Apart from the lack of a collaborative spirit, the short-term goals of the marketing, tech, and content teams aren't aligned. While they still work on bringing results individually, their efforts need to be unified to get maximum results from organic search.
2. Implementation velocity
This refers to the time between identifying an issue to being able to implement the action items. SEO has a slow feedback loop already, and teams today take much longer to identify the problems and work on fixing them.
3. SEO becoming a non-strategic function
There are a lot of things that can/should be done in SEO. This quickly overwhelms the teams and thus, they don't go beyond the basic to-dos. So, instead of being driven by strategy, SEO becomes extremely checklist-driven.
The way these problems are being neglected by most companies is just weird, especially given that SEO usually contributes to around 30% of a company's revenue.
(Source: My personal observations + some polls we conducted)
What is Agile SEO?
Agile SEO is the optimal way for SEO to be performed in-house with or without some external support.
We have divided SEO into four logical parts based on the stakeholders involved, the region of influence, and the impact it has on the organic search channel:
Strategic Content Creation
Backlinking and PR Campaigns
Technical and Backlink Correction
Website and Content Update
For each of these segments. The SEO team works with other teams of the companies in sprints to get these implemented.
Each of these sprints has four parts: Research, Prepare, Implement, Analyze.
The 4 segments of SEO are:
1. Strategic Content Creation
Simply put, here, we create content. Your content strategy needs to take into account the needs of multiple different marketing channels while ensuring it builds trust & nurtures your audience, strengthens your brand identity, and is aligned with your overall marketing objectives.
The largest issue I've noticed is that SEO is often treated as an afterthought. You can't create a content piece and send it to your SEO team to have them rank it. Treat every piece of content as a campaign. Be clear about the channels it will and can get promoted through.
"SEO content" is usually the thing people are looking for. Thought leadership content is often not well-suited for organic search.
Plan these in recurring 1-3 month-long sprints.
2. Backlinking and PR Campaigns
If it goes on the web, apart from your website or social media, involve your Organic Search team. Whether it's creating/reviewing your next PR kit, designing/revamping the next client-facing product page (like payment gateways), or the distribution plan for your next major content.
Consider giving them ownership of the referral traffic they bring in.
Plan these in recurring 1-3 long sprints or a separate sprint along with a partnership, product launch or PR event.
3. Technical and Backlink Correction
Your website is the base on which all your SEO activities stand. How strong that base is depends on how technically sound your website is and the quality of the backlinks you have.
Here, you focus on auditing and correcting the various issues.
Auditing the backlinks and identification of the technical issues can be done by the SEO team. Once identified, our website team should easily fix most of the technical issues.
The key here will be identifying patterns and prioritizing the optimization opportunities.
Plan these sprints every 6 months. The duration of these sprints will depend on the complexity and state of your website.
4. Website and Content Update
You've created a lot of content and pages on the website.
But.. Organic search is a fickle lady. 🙂
Your competition may outrank you, your product team may change your messaging, or you may revamp your website.
When doing this audit, you're looking for opportunities where with small tweaks, you will see almost instantaneous results.
Some examples of opportunities you may find are:
Increasing CTR by changing metadata
Regaining lost ranking
Moving your key pages up a couple of ranks via internal linking
Plan these at least once every year. But also identify your highest SQL generating pages/keywords and monitor them like a hawk.
Breaking down each sprint
Each of these segments is run in sprints with 4 phases::
Research
Gather data, come up with insights, and understand what needs to be implemented.
For instance: Which stakeholders will be involved? What are the expected outcomes of doing each of these projects? And so on.
Then, prioritize the opportunities.
Prepare
Each opportunity is often a challenge. You create to-do lists for each of the stakeholder teams to implement each sprint, while making sure other stakeholders are able to prioritize.
For instance:
Don't send: Hi tech team, these pages have two H1s please resolve it.
Send: Hi tech team, here are screenshots to change the headers of the page to H1, H2s, H3s, and H4s. By when can you get this done?
Don't send: High content team, please create content on these keywords.
Send: Hi content team, we have shared a sheet that says what content do we need to be created for which audience? For which buyer persona? Exactly how the content needs to be structured for SEO. What are some sample articles? Can we write about all of these topics? If so, by when can you create it?
Implement
This is where the respective teams actually implement SEO.
If a team apart from the SEO team has implemented something, the SEO team validates that it has been implemented properly.
Analyze
The SEO team then tries to link the activities to actual results or signs of results and sees if the initial predictions were correct. However, it's important to note that the team must not be judged on a project-to-project basis, but from an overall picture of how many of these projects were successful.
That's because, in SEO, it is very hard to link results to what you have implemented. But by following this approach, It becomes much easier to understand how the industry the website is actually performing and take strategic decisions based on that.
Agile SEO vs. Traditional SEO: How being Agile is the best way forward
So, great! You now know what Agile SEO is.
TLDR: I am a huge believer in our Agile SEO model. We've implemented it time and again, and it's always been a winner.
Here are a few more reasons you should consider taking the Agile road:
1. Continuous improvement
With the traditional approach, if you figure out ways to improve something later, you practically can't do it without going through the pain of tweaking everything else that came right after.
However, with the Agile SEO approach, you're constantly testing, measuring, comparing, and optimizing for the best results. This way, each of the sprints would always be better than the last one with no scope of repeating the previous mistakes.
Thus, you'd always be evolving your SEO game—faster and more efficiently—with each step you take.
2. More flexibility
When it comes to the traditional SEO approach, making changes can be an extremely tedious and costly job. With Agile SEO, since your team would be working in short, manageable sprints, you can implement changes to your project even on short notice.
If you're a dynamic B2B company, the latter can be your best bet as it can give you the flexibility you've been looking for!
3. Better collaboration between teams
The traditional SEO approach calls for all your teams to work on all of the items at the same time, individually. Your developer could fix the technical issues, while your content team can work on meta descriptions, and so on.
In the case of Agile SEO, all the teams frequently come together to discuss what's working and what isn't. Thus, they find room to grow in their existing roles, while getting the opportunity to learn new skills. The result is a closely-knit, supportive group of experts who work together on nailing SEO!
4. Reduced Risks
With the traditional approach, you reach a point of no return if you find that your end results aren't close to what you planned initially.
Agile SEO predicts these upcoming risks as you first work on one thing at a time and only move forward when you achieve the desired result in a sprint. Thus, you'd be able to mitigate risks, ensure the smooth running of projects, and focus on continuous delivery.
5. Make SEO a strategic function
We already know how the link between most company's marketing strategies and SEO stands broken. This is because they treat SEO as a technical function instead of a strategic one, without realizing the aftermath—loads of missed opportunities and SQLs.
The traditional approach is all about dividing SEO into 4 parts: On-page, Off-page, Technical, and other miscellaneous things—International, Local, Voice, etc. Thus, the focus is clearly more on diving head-first into fixing things, rather than planning, measuring, and re-evaluating approaches.
Agile SEO, on the other hand, takes you from "where are we on this project?" to "how much SEO value have we captured until now?"
First, you plan your next steps for SEO. Second, you analyze your needs, budget, and create to-do lists for each of the teams involved. Then, you get to the implementation phase, and at last, you analyze whether you achieved your KPI targets and revisit your long-term marketing goals to check if you're on the right track.
Thus, Agile SEO can create breakthroughs in the organic landscape for high-growth companies today, who always strive to maximize their results and minimize inefficiencies.
However, we realized there's a massive need for an effective and sustainable SEO model that follows the Agile methodology.
That's why we created Spear Growth's 4-step Agile SEO Model.
Implementing Agile SEO
Now that you know about our Agile SEO model, here are a few things you'd need to do to implement it:
Your marketing, content and tech teams need to understand how to work with each other and align their goals. They need to function like a single unit, an SEO team.
The management needs to set KPIs in a way that SEO and the other stakeholders can actually work together.
You need an SEO team that actually understands how to make strategic decisions and prioritize things. (Or you can just hire us to work with your teams, haha.)
We can help!
We've built our SEO packages keeping in mind that we want to enable Agile SEO.
We provide strategic SEO direction to your teams to enable you to perform revenue-driven SEO.
Let me walk you through 3 scenarios:
If you want to understand where exactly you stand in the organic search landscape, where the optimization opportunities are, and want detailed action items that you can take, I would recommend our SEO Audit & Roadmap.
This is especially useful for companies that have just revamped their website or haven't done an in-depth SEO analysis of their organic presence in over 6 months.
If you already have over 100 pages on your website, whether they are blogs, ebooks, or even your product or service pages, I would recommend you check out our SEO Content Upgrade.
We've actually found thousands of optimization opportunities on individual websites. Working on just the opportunities that we marked as the highest priority, has resulted in a significant boost in organic results within a matter of months.
Finally, if you already have a content team but lack SEO expertise, some solid strategic SEO guidance should help increase the organic results you see from your content significantly. For this, I would recommend our SERP-Rise Content Strategy, i.e. Search Engine Result Page-Rise Content Strategy.
If any of these 3 things seem like something you would be interested in, schedule a call with us. We'd love to understand your SEO challenges and suggest the right next steps for you.